Post on Life After Laundry contain affiliate links. These links are there for your convenience. They do not effect the cost for you, but provides a small commission, which helps keep the creative content coming!
When I started my blog, it was purely to write about what I love and inspire others. I think that is why it has been on my mind for a while now to start a link party. They are such wonderful ways to share your work and of course inspire others. I'm so exciting to see what you have been up to, and share with my readers your inspiring work, whether it be crafts, food, beauty, or just your wonderful writing.
Each week we will be featuring work from the previous weeks party. Mariely (my co-host) and I will pick different features, so you have 2 chances to have your work highlighted!
This Thursday at 8:00am my first Less Laundry, More Linking party will go live. I hope you will join me.
If you would like to help me spread the word about my party please feel free (I would love you forever) to grab the button below.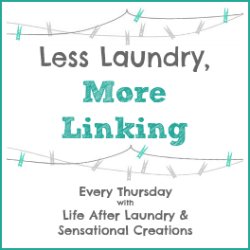 See you Thursday!