Post on Life After Laundry contain affiliate links. These links are there for your convenience. They do not effect the cost for you, but provides a small commission, which helps keep the creative content coming!
Mariely and I are so glad to have you here with us today! We love seeing all the links and are always so inspired.
We are a fairly new party and would love to have your help spread the word. You can grab the button below if you would like.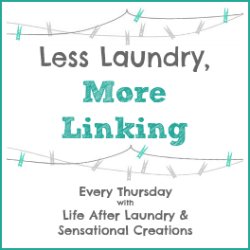 This is actually Mariely's last week as my co-host for a while. She is taking a much needed blogging break. I will be sad not having my buddy with me each week, but completely understand! My new co-host will be Nancy from theBitterSideofSweet, I know you will love her and I'm looking forward to what she will bring to the party.

I have decided to do things a little different this week. Last week I attended a blog conference and one of the speakers talked about link parties and your goal should be to encourage people to "pin" and visit the links that are shared. So, that is why I am trying something new, to help you get "pinned." I'm just testing this out, so please tell me what you think. Would you rather have people go directly to your site or have it easier for party members to "pin" you work?
Ready to be inspired by our wonderful fall features? Be sure to check back next week to see if it was you that were featured. Don't forget to follow our Pinterest Board, where a lot of your work will be pinned throughout the week.
Most Visited:
My Favorite:
Don't forget to grab the button if you were featured!
Rules: