Post on Life After Laundry contain affiliate links. These links are there for your convenience. They do not effect the cost for you, but provides a small commission, which helps keep the creative content coming!
Welcome to this weeks Less Laundry, More Linking party. We are going to start things off a little earlier. I hope that this will make it easier for everyone to link up. Please let me know what you think in the comments.
In case this is your first time stopping by this week, be sure to check out the two giveaways I have going on right now. One is for $250 cash and the other will help you get a jump start on your holiday planning, with a Callie's Biscuit Bender package.
This week our features were picked by you, and are the 3 most visited links from last week.
Features:
Summer Harvest Vegetable Pizza
How to divide an Egg in Half
Spot Art

Don't forget to grab the button if you were featured!
Want to know when the party goes live? You can subscribe to get weekly reminders.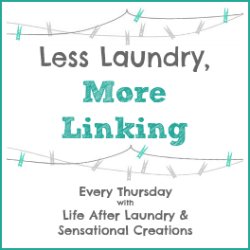 Rules: