Post on Life After Laundry contain affiliate links. These links are there for your convenience. They do not effect the cost for you, but provides a small commission, which helps keep the creative content coming!
Are you having a good week so far? With Monday being a holiday, I feel even more behind than usual. I did have a wonderful Monday though, so that makes up for it. We took our little boy to the last baseball game of the season. He watched the game for all of 2 minutes, but sure did love the popcorn. We got him this mini baseball bat that he has been carrying around ever since. I know, it was a moment of insanity, who buys a bat for a three- year old!?
After the game the little mister went home with Grandma and my husband and I had a date night. It was so nice, we actually ran errands for the most part, but it was nice being together and getting to talk with out being interrupted.
Here is what has been going on around Life After Laundry in the meantime.
But, it's Wednesday night now and it's time for a Less Laundry, More Linking. Even if I do think it should only be Tuesday.
This Weeks Features:
Most Clicked
Oreo Frogs from Made to be a Momma
My Favorite
DIY Kids' Lockers from OneCreativeMommy
Homemade Cookie Crisp Cereal from Heather's French Press
Don't forget to grab the button if you were featured!
Want to know when the party goes live? You can subscribe to get weekly reminders.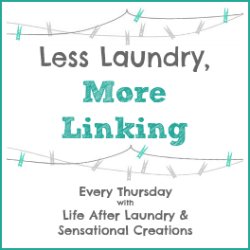 Rules: