Post on Life After Laundry contain affiliate links. These links are there for your convenience. They do not effect the cost for you, but provides a small commission, which helps keep the creative content coming!
Last Saturday I attended my very first in person blog conference. It isn't often that I see big conferences in my area (It seems like the ones I want to attend are always in Utah), so when I found out about Bloggy Boot Camp I was thrilled.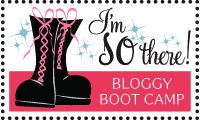 I bought my ticket immediately, and then the nervousness set in. What to wear? What to bring? What bag to put it all in? Where was I going to get business cards? Who would I talk to? Would I be able to apply what I learned?
What I brought…
I wish I had pictures of what I wore, but I was in such a rush both days. It is hard to get some one to stop and take a picture. My advice is wear what is comfortable to you. I wore a casual dress and sweater to the Meet and Greet and a cute skirt (that I made by the way) and blouse on Friday. Because that's what I'm comfortable wearing.
What I brought was pretty simple, pens, notebook, bottle of water and a snack. Of course, the most important thing was business cards.
I made this cute little business card holder to carry them in, using a great tutorial from Wait 'til Your Father Gets Home.
Who I met…
I worried myself right up to Friday, the night of the Meet and Greet. As I wandered the halls looking for where we were supposed to be gathering I ran into another Bloggy Boot Camper who was doing just the same. To my surprise it was Stephanie from Binkies and Briefcase, who happens to be in my Online BlogCon group. She is so so nice and we hit it off instantly. Finally I could relax a little, I had a buddy in this big group of bloggers.
By the way the pictures from the conference were all taken by Stephanie. Did I mention I was a nervous wreck? I completely dropped the ball on taking pictures. I know, I know and I call myself a blogger.
Saturday night after the conference was a cocktail party. I don't drink, so I almost skipped this part. But, I'm so glad I didn't because I would have missed out on meeting some wonderful bloggers. One of which is Shara from Palmettos and Pigtails. She has a blog similar to mine, and we plan to work on some things together soon. So, I'm sure this wont be the last you hear about her. I was also so happy to get the opportunity to meet, Tracey from the Kitchen is My Playground and Melissa from Serendipity and Spice, both have been online buddies of mine and are from NC.
What I learned…
Saturday was one of the most wonderful and mentally exhausting days I have ever had. The information that I was shared was amazing, but the passion these ladies spoke with was just down right moving.
There was no "fluff," everything was straight to the point. A few of the topics were SEO, Design, Social Media and How to write a killer sponsored post.
All of the information was great, but what stuck out to me the most was a question that was asked, "What is your end goal? and "What are you doing to get there?" Those questions haunted me for the rest of the day. For me it all came back to asking myself "Why did I start blogging?" Well, as silly as it may sound to some I started because I wanted to inspire other people to sew, and I wanted to write a tutorial that was featured on Moda Bakeshop. Ok, so those aren't huge goals, I know. Regardless, I haven't been efficiently working to get there.
When I realized this it became very clear what I need to work on, and what I need to stop wasting my time doing.
I'm sure my revelation was completely different than most, because with the information we heard, you should leave there feeling like you could conquer the world. I too was excited about the things we learned, but my greatest takeaway is… I just need to sew.